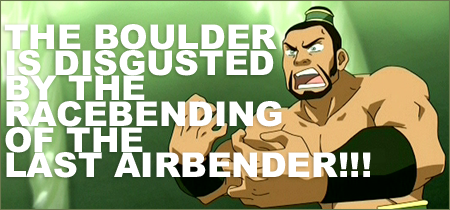 HALLO EVERYONE. MY NAME IS THE BOULDER. THE BOULDER IS UPSET ABOUT THE RACEBENDING OF THE FILM ADAPTATION OF THE BOULDER'S FAVORITE ANIMATED SERIES:
Avatar: The Last Airbender
.
What this Community is For:
Updates on the production of The Last Airbender critiquing the film's failure to maintain the integrity of the original series.


Promoting entertainment media that represents and celebrates marginalized groups.


Sharing information and engaging members in a safe-space discussion about groups that have been underrepresented in the media due to systemic and institutionalized discrimination.


Finding ways to defeat Toph, since she hurt The Boulder's feelings.
For more information and RULES, please view the
community profile
. Criticism towards the comm should be directed to
The Fire Nation Man Thread
.
Looking to make posts or join the discussion?
RACEBENDING: Policies: posting and commenting
- a very important read, if you want to participate.
For official information and updates please visit the mothership
Racebending.com!
Source: http://www.siliconera.com/2012/07/17/sleeping-dogs-has-a-star-studded-cast-of-actors-lending-their-voices/

I've been watching the development of this game for a while, being FROM Hong Kong, and I am relieved to say that the majority of the cast is Asian American or Asian, and anyone who isn't Asian is playing a character from their respective nationality, for example: Tom Wilkinson as Police Inspector Pendrew, a character that's probably from the UK.

I am personally cautiously optimistic about how my home is represented in this game, but I will hold back final thoughts untill the game is actually out .Still, it looks good so far!


http://www.guardian.co.uk/film/2012/apr/10/ben-kingsley-iron-man-villain
http://www.metro.co.uk/film/900807-ben-kingsleys-character-in-iron-man-3-revealed-as-the-mandarin
http://www.hollywoodreporter.com/heat-vision/ben-kingsley-iron-man-3-robert-downey-jr-jon-favreau-309693
It looks like the upcoming Iron Man movie seems to have gotten a little more than an off footing and sidetracking with its casting.
I am fully aware like others who follow the comic book, that the Mandarin, Tony Stark/Iron Man's arch nemesis, is a Eurasian character (According to the sources: The Mandarin's late father was a wealthy Chinese merchant in pre-revolutionary China and has Mongol ancestry going back to
Genghis Khan
, while his late mother was an
English
noblewoman.)
But his cultural background and the setting of his story in the comics is firmly Chinese through and through.
The Mandarin, usually has his stories taking place there, his plans, schemes and machinations often entail themes and subjects dealing with Chinese mythology, he sometimes works in collaboration with the Chinese Government to implement his plans for world domination and so on. As much of a stereotypical throwback to Fu-Manchu as he is, that is his ethnic background.
And nothing could be further from that cultural background and backdrop than Kingsley (a British Indian actor). As good as Kingsley is, this is still tantamount to a whitewashed role and it would have deemed more appropriate for a Chinese actor, whether a Chinese or a Western Chinese actor to get the role.
I don't see how even an actor like Tzi Ma (who has been crucially involved in the Racebending protests, and also often been typecasted rather unfortunately in many villanous roles in Hollywood movies) could not have gotten it as someone like him would have been more appropriate for the role.
NB: It's too bad John Lone, of the Year of the Dragon, The Last Emperor and Rush Hour 2 fame, was already cast in a role very similar to that of the Mandarin (in the early 90s fiasco of a superhero movie, The Shadow), otherwise he is what I would have imagined Mandarin to be in my imagination of a live-film adaptation of the character.
So it was brought to my attention recently that there's an Assassin's Creed movie in the works, which got me a little excited. The honest truth is I've played maybe two hours of the entire series (which I promise I'm hoping to change very soon). But it's always intrigued me a ton; the whole idea of it of the Animus and past-lives, assassins, and the style and art of the game have totally drawn me in.
Even so, I'm pretty stoked about the movie and will definitely be seeing it, especially considering Ubisoft's allegedly firm stance on retaining creative control. Most of us gamers have been sorely let down by film adaptions of popular franchises, so it's easy to be cynical on whether or not the film will be worth seeing. I'm hoping it will.
(
Read More
Collapse
)
EDIT #4: Fassbender's Assassin's Creed character not necessarily Desmond
joystiq.com "Fassbender will play the lead role, but it's too soon to say exactly which character that will be," a Ubi rep told us. [...]"The storyline isn't bound by a certain era or even a set of characters," the Ubi rep added. "That kind of freedom gives us great flexibility in creating the movie." Which isn't to say that the film will be a Uwe Boll-esque takeoff on the game series. Like all things Assassin's Creed, Ubisoft is treading carefully so as not to anger longtime fans. "We're also taking the responsibility of maintaining fidelity with the overall story and brand very seriously," the rep said.
http://www.aintitcool.com/node/56412
So Joe Cornish, director of the excellent Attack the Block, is directing the adaptation of Neil Stephenson's classic cyberpunk novel. On the other hand, the producer, Kathleen Kennedy, was one of the people backing The Last Airbender. Will Hiro Protagonist, the biracial lead character, end up whitewashed due to producer pressure, or will they be willing to stick to the book?
"TED is a nonprofit devoted to Ideas Worth Spreading. It started out (in 1984) as a conference bringing together people from three worlds: Technology, Entertainment, Design. Since then its scope has become ever broader."
I love TED talks. Speakers have a time limit so they have to get right to the point of their speech. I don't agree with all of them. But I they have helped me grow as a person.
These are two of my favorites, that I pull out to explain racism to people who don't understand, they changed me and they change the people I share them with:
Chimamanda Adichie: The danger of a single story
TEDxHampshireCollege - Jay Smooth - How I Learned to Stop Worrying and Love Discussing Race
TED has long had a problem with recruiting women speakers. They recently authorized an independently organized TEDxWomen spinoff to speak specifically about women's issues around the world. The TEDx videos are posted on youtube. And they are under attack.
http://www.youtube.com/watch?v=QxkxcsrveLw&feature=g-u-u&context=G224bf27FUAAAAAAAAAA
This is a Nobel Peace Prize winner speaking about her efforts to help women in her own country. And it's bombarded with trolls claiming that it's sexist because women initiate 90% of divorces (Who knows which country he's referring too - but this is a video about Africa! What does divorce rates in the Western world have to do with Africa?).
While this is pretty obvious trolling, it's pretty heavy trolling. Each time TED uploads a video with a woman speaker, it's immediately getting 100 down votes. Many subscribers don't watch the videos if they are heavily down voted. So these videos are getting less views, and women's voices are being silenced.
I know this is a bit off topic for Racebending, but, if you are interested in TedTalks and have a youtube channel, would you subscribe? Ignore the trolls - but like the videos under attack and up vote the useful comments.
I don't want users being pushed away from such an amazing and inspiring speeches as TedxTalks provides because of trolls.
One of Bill Paxton's upcoming projects is a Kung Fu movie (based on the Carradine series), per
this source
.
Considering that the tv show is a notorious example of whitewashing, this is something to keep an eye on. However, Paxton's remarks in the linked article are somewhat promising:
To take that a step further, I think the character of Caine, whoever this actor this is, and we're going to have to do a big search, he has to be Chinese-something... Chinese-Irish, Chinese-Israeli, Chinese-American, Chinese-Canadian... He's probably going to have to be a pretty skilled martial artist.
Of course, this is still all very preliminary, but hopefully this comment pans out.
Courtesy of Market Watch
:
The Legend of Korra, in which the mythology of the beloved animated franchise from Avatar: The Last Airbender creators Michael Dante DiMartino and Bryan Konietzko continues. The series centers around a new Avatar named Korra, a 17-year-old headstrong and rebellious girl who continually challenges and bucks tradition on her quest to become a fully realized Avatar in a world where benders are under attack. The half-hour series will debut on Saturday, April 14, at 11:00 a.m. (all times ET/PT), as part of Nickelodeon's Saturday morning block (8AM-Noon), which has been the number-one destination for Kids 2-11 for 12 consecutive years and currently delivers more than three million total viewers each week. The Legend of Korra will air regularly on Saturday at 11:00 a.m.
HIP HIP HOORAY
After a tumultuous development process, Disney's 'The Lone Ranger' is finally in production. The film, directed by Gore Verbinski and based on the iconic western hero, stars Armie Hammer ('The Social Network') as The Lone Ranger and Johnny Depp as his faithful Native American sidekick Tonto. Today, the very first image from the set hit the web, thanks to producer Jerry Bruckheimer's twitter account, showing both characters in full costume and makeup. I like Hammer's getup and look, but something about Depp makes it look like he's playing another variation of Hunter S. Thompson and is experiencing a bad peyote trip. He just looks like he's playing it for laughs. Take a look at the image below and let us know what you think. [SOURCE]
(
Image Behind the Cut
Collapse
)
...Of all the Native American actors and history at their disposal, why did they choose to go this route of all things? Its just... fucking frustrating. Already you've got people trying to defend it by citing Johnny's grandmother.