HALLO EVERYONE. MY NAME IS THE BOULDER. THE BOULDER IS UPSET ABOUT THE RACEBENDING OF THE FILM ADAPTATION OF THE BOULDER'S FAVORITE ANIMATED SERIES:
Avatar: The Last Airbender
.
What this Community is For:
Updates on the production of The Last Airbender critiquing the film's failure to maintain the integrity of the original series.


Promoting entertainment media that represents and celebrates marginalized groups.


Sharing information and engaging members in a safe-space discussion about groups that have been underrepresented in the media due to systemic and institutionalized discrimination.


Finding ways to defeat Toph, since she hurt The Boulder's feelings.
For more information and RULES, please view the
community profile
. Criticism towards the comm should be directed to
The Fire Nation Man Thread
.
Looking to make posts or join the discussion?
RACEBENDING: Policies: posting and commenting
- a very important read, if you want to participate.
For official information and updates please visit the mothership
Racebending.com!
The first book of Kelley Armstrong's Women of the Otherworld series ws optioned to become a TV show last year, and production just started yesterday. In the books, the character of Jeremy is described as dark-haired with "tilted eyes." In another book in the series, it's revealed that his mother (who he was taken away from as a baby) is Japanese.
This is Greg Bryk, the actor playing Jeremy in the show.
This
is the press release with the casting announcement.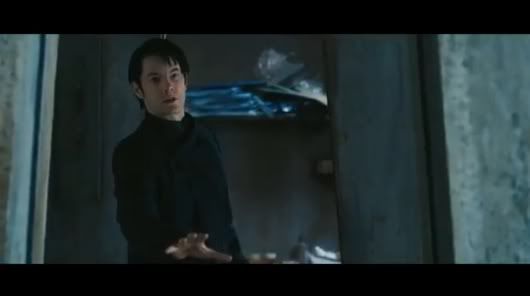 Maybe someone can help me with this one bcz I might have entirely gotten things wrong. So I'm watching this trailer for an upcoming Tom Hanks / Halle Berry movie and I see something really strange. No, not Hanks' facial hair; Jim Sturgess in Yellowface[starts at 1:53]:
That is Jim Sturgess, right? Anyways, here's the directors explaining the film, in which they comment that the actors are to play multiples rolls: different ages, different races, and different genders[starts at 1:05]:
I don't get it. Even if people are perfectly "cool" about this, how can you look at that guy's face and think he looks perfectly normal? Oh, wow, and it's Jim Sturgess from
21
. How odd is that?
*edit*
Apparently the two actors play different roles in another part of the film, and from this image it looks like the actress, Doona Bae, is playing a white lady?
Hi all,
I hope this post is appropriate here; if not, please let me know and I'll take it down.
I'm a longtime follower and occasional commenter in this community. I'm also the program chair for
Readercon
, a speculative literature convention that takes place in the Boston, Mass. area every July. Participation in our program--that is, speaking on panels, giving talks, and doing readings--is by invitation, and while our invitation list includes some fabulous people of color (including past guests of honor Samuel R. Delany and Nalo Hopkinson), I'm looking for ways to diversify it further. I hope you can help by recommending amazing people you'd like to see on our program!
Readercon is very focused on the written word, so I'm primarily looking for authors, editors, publishers, critics, and academics who are well-versed in written science fiction, fantasy, and horror. That said, we do have occasional items on related media, including cover art and illustrations, movies, and television. You can get a sense of who usually comes to Readercon by looking at
this year's guest list
.
I would greatly appreciate recommendations of people of color (and other members of disprivileged groups within fandom) who you think would have a good time at Readercon and enjoy contributing to our conversations. Please comment on this post or write to program@readercon.org anytime between now and December with your suggestions. (You can put yourself forward too.) The people you recommend don't need to be famous; they just need to be inquisitive, opinionated, and passionate about speculative literature and related fields.
This link
lays out exactly what we're looking for in a recommendation. If you have contact info, great! If not, send suggestions anyway and we'll find ways to contact them.
Feel free to pass this link around to anyone who might be interested, post it on mailing lists, etc.
Thanks very, very much!
Cheers,
Rose
Source: http://www.siliconera.com/2012/07/17/sleeping-dogs-has-a-star-studded-cast-of-actors-lending-their-voices/

I've been watching the development of this game for a while, being FROM Hong Kong, and I am relieved to say that the majority of the cast is Asian American or Asian, and anyone who isn't Asian is playing a character from their respective nationality, for example: Tom Wilkinson as Police Inspector Pendrew, a character that's probably from the UK.

I am personally cautiously optimistic about how my home is represented in this game, but I will hold back final thoughts untill the game is actually out .Still, it looks good so far!


http://www.guardian.co.uk/film/2012/apr/10/ben-kingsley-iron-man-villain
http://www.metro.co.uk/film/900807-ben-kingsleys-character-in-iron-man-3-revealed-as-the-mandarin
http://www.hollywoodreporter.com/heat-vision/ben-kingsley-iron-man-3-robert-downey-jr-jon-favreau-309693
It looks like the upcoming Iron Man movie seems to have gotten a little more than an off footing and sidetracking with its casting.
I am fully aware like others who follow the comic book, that the Mandarin, Tony Stark/Iron Man's arch nemesis, is a Eurasian character (According to the sources: The Mandarin's late father was a wealthy Chinese merchant in pre-revolutionary China and has Mongol ancestry going back to
Genghis Khan
, while his late mother was an
English
noblewoman.)
But his cultural background and the setting of his story in the comics is firmly Chinese through and through.
The Mandarin, usually has his stories taking place there, his plans, schemes and machinations often entail themes and subjects dealing with Chinese mythology, he sometimes works in collaboration with the Chinese Government to implement his plans for world domination and so on. As much of a stereotypical throwback to Fu-Manchu as he is, that is his ethnic background.
And nothing could be further from that cultural background and backdrop than Kingsley (a British Indian actor). As good as Kingsley is, this is still tantamount to a whitewashed role and it would have deemed more appropriate for a Chinese actor, whether a Chinese or a Western Chinese actor to get the role.
I don't see how even an actor like Tzi Ma (who has been crucially involved in the Racebending protests, and also often been typecasted rather unfortunately in many villanous roles in Hollywood movies) could not have gotten it as someone like him would have been more appropriate for the role.
NB: It's too bad John Lone, of the Year of the Dragon, The Last Emperor and Rush Hour 2 fame, was already cast in a role very similar to that of the Mandarin (in the early 90s fiasco of a superhero movie, The Shadow), otherwise he is what I would have imagined Mandarin to be in my imagination of a live-film adaptation of the character.
http://www.aintitcool.com/node/56412
So Joe Cornish, director of the excellent Attack the Block, is directing the adaptation of Neil Stephenson's classic cyberpunk novel. On the other hand, the producer, Kathleen Kennedy, was one of the people backing The Last Airbender. Will Hiro Protagonist, the biracial lead character, end up whitewashed due to producer pressure, or will they be willing to stick to the book?